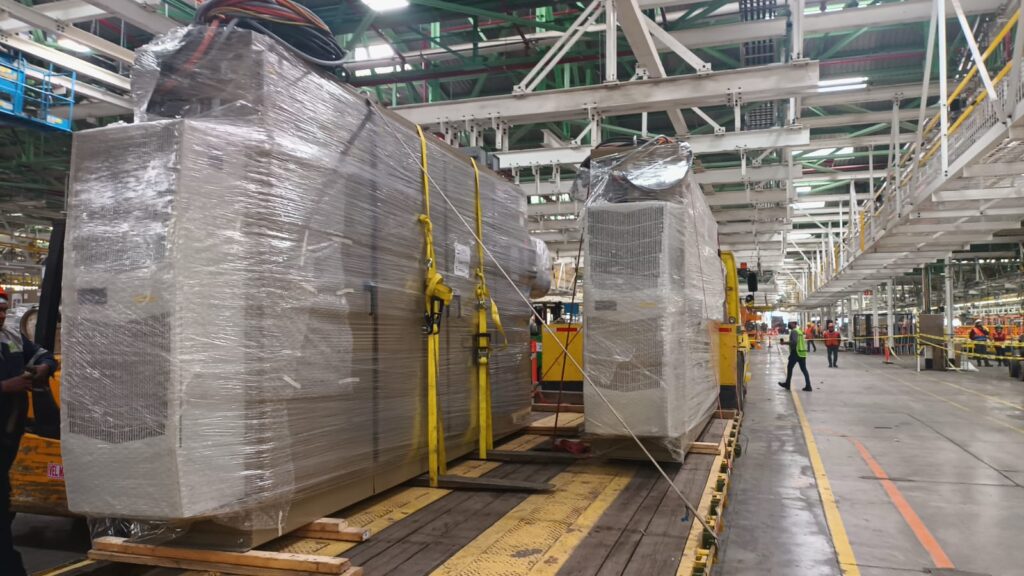 Tradelossa is a proudly Mexican company that's been in the logistics industry for 50 years, standing out for its world class quality standards and services. Specializing in heavy and oversized cargo, Tradelossa also offers rigging, M.R.O. supply chain and forwarding solutions all over Mexico, USA, and Central America. Overcoming every challenge, employing the experience and work discipline of its personnel, and making use of state-of-the-art equipment for the handling and transportation of pieces with unique weight and dimensions.
Following the events of the last 3 years, the automotive industry's production lines are becoming more and more demanding. With the arrival of new and groundbreaking electric vehicles, Mexico, as one of the world's leading auto parts manufacturers and exporters has found itself In need of intensifying its efforts in order to comply with the manufacturing demands set by the evolving market.
Tradelossa was invited to participate on a pretty special task: The full-scale relocation of an automotive electric battery manufacturing plant, making over 100 trips in a 9-day timeframe.
Within 24 hours of the request, the Tradelossa team went to their client's facilities and got down to work and began the transportation of the entire equipment, machinery, and material from the existing plant to their new facilities through a 2-kilometer route on a heavily used highway.
This large-scale project would not be an easy challenge. For its success it was necessary to create a continuous transportation and unloading network with 24-hour availability over 9 days.
Even with the Holidays ahead Tradelossa team developed a game plan, starting operations on December 23 2022, and concluding on New Year's Eve. Making use of the proper equipment and maintaining control and flow of all units to support the entire project, more than 50 units arrived at site, some of them, lowboy, dry vans, and platforms. Each unit was customized by Tradelossa engineering team to fit safely and easily into the various cramped areas in both plants.
One of the key steps to ensure the success of this challenging project was the application of operational guidelines with key staff whose main task was to guide and instruct each member involved in the different stages of loading, transporting, unloading, and storing parts over the course of more than 80 completed trips.
"Each part we hauled had unique characteristics that differentiated it from the others, therefore, each trip we made was unique with unique obstacles, no doubt it was our flexibility and adaptability that allowed us to complete so many trips in such a limited time frame". Expressed Tradelossa head of field operations just a few hours after celebrating a new year with the competition of this ambitious project.
The achievement of this logistical feat led to the upgrade and capacity increase of one of the first and main electric car assembly plants in Mexico, strengthening the automotive sector within the territory, allowing the creation of jobs, and adding efforts to the fight for the conservation of our planet with the generation and use of clean energy.
Tradelossa – Moving the industry 1973