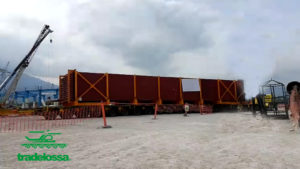 Tradelossa has simultaneously transported twenty-two boiler modules from Apodaca to El Carmen, Nuevo Leon.
The twenty-two boiler modules ranged in size, measuring up to 27m long, 5.7m wide and 3.5m high, and weighing as heavy as 280t.
The modules were transported 40km from the vendor's facility to the project site CC Noreste using different types of vehicular configuration due to the reduced work space in the vendor's facility. First, we used a 10 axle lines of SPMT, for then transfer the components to a 20-axle hydraulic vehicular configuration.
This project wouldn´t have ended as successfully as it did if it wasn´t for the effort of our team involved in the development of the project.