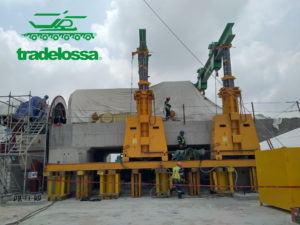 Tradelossa has installed a gas generator and a set of gas turbines for the Combined Cycle Project Noreste in Nuevo Leon, Mexico.
The gas generator was received in the project site, which has dimensions of 11.5 meters long x 4.1 meters wide x 4.32 high; weighing 289 tons, lifted and installed using Gantry system.
Tradelossa also made an internal transportation and installation of the gas turbine set.
The turbines were moved with an 18 axle in parallel hydraulic SPMT configuration and installed with the Gantry system. The dimensions for a set of gas turbines were of 13.5 meters long x 4.8 meters wide x 3.8 meters high; weighing 257 tons.
Thanks to all Tradelossa's team for their effort!
We offer transport solutions, rigging, engineering and project cargo logistics in heavy haul for national and international markets.