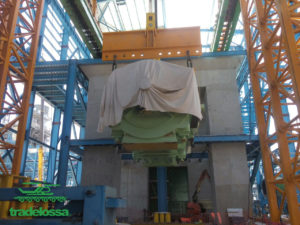 Tradelossa has completed the lifting and skidding of steam equipment for the Combined Cycle Project Empalme II, in Sonora.
All the components were raised with a 570 metric ton Strand Jack Lifting System. Each rigging was adjusted to the dimensions of the different components for its correct positioning.
The items raised were:
Parts of a gas turbine, 9 m length x 8 m width x 4.7 m height; weighing up to 101 metric tons.
Condenser, 15 m length x 8 m width x 13 m height; weighing 270 metric tons.
Gas generator, 11.5 m length x 3.9 m  width x 4.6 m height; weighing 330 metric tons.
Operations were executed 15 meters above the ground for their assembly, considering them as high risk and performed under special safety conditions without incidents.