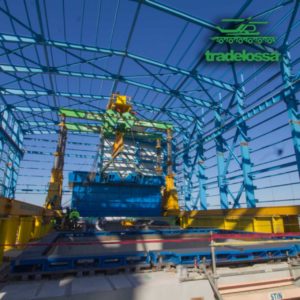 These first few months have been of hard work just we finished with the installation of components for the Combined Cycle Power Plant Empalme I, in Sonora.
This Project consisted in the rigging of different components with a 570 metric ton Strand Jack Lifting System.
The items raised were:
Parts of a steam turbine, 6.3 m (20.66 ft) length x 3.8 m (12.46 ft) width x 4 m (13.12 ft) height; weighing up to 141 metric tons.
Outer casing of a condenser, 9.1 m (29.85 ft) length x 9 m (29.52 ft) width x 3.9 m (12.79 ft) height; weighing 90 metric tons.
Steam generator, 11.5 m (37.72 ft) length x 4.9 m (16.06 ft) width x 4.8 m (15.74 ft) height; weighing 330 metric tons.
Operations were executed 15 meters above the ground for their assembly, considering them as high risk and performed under special safety conditions without incidents.
These components will supply the forecasted electric demand for Northern Mexico.