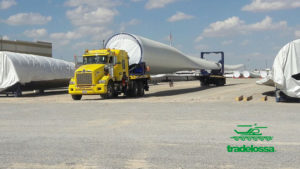 Tradelossa has successfully completed a transportation test of a 65-meter wind blade, representing one of the biggest wind components ever moved in Mexico.
The wind blade was transported 578 km (354 mi.) from Ciudad Juarez to Ojo Laguna, Chihuahua, Mexico. Tradelossa used an extendable 3 axle blade trailer.
The cargo will be delivered to New Mexico.