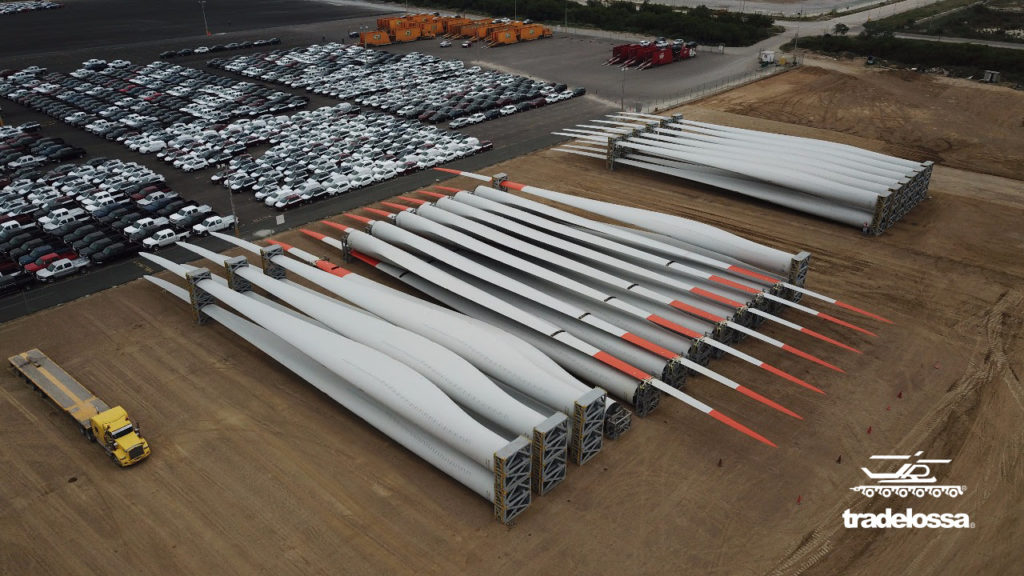 We

 

are

 

proud

 

to

 

share

 

with

 

you

 

another

 

achievement

 

for

 

us, d

uring

 

the

 

course

 

of

 

this

 

month

 

we

 

finish

 

our

 

role

 

in

 the projec

t

 

Mezquite!

Tradelossa has successfully finished after 6 months the final delivery of 300 blades along with 48 set of towers, during this time 444 specialized freight transportation was completed moving 25 million pounds and traveling around 29,000 miles in total. This time our scope included not only transportation but also port handling and some other additional services. The origin of these important movements took place at Port of Import Altamira, Tamaulipas with Mina, Nuevo Leon as final Destination.

Dimensions of each blade: with a weight of 13.52 tons, 8.02 meters in large x 3.34 meters in width x 3 meters in height.

Dimensions of all sets of towers: with a weight of  60 tons, 32.4 meters in large x 4.5 meters in width x 4.3 meters in height each.

We are very proud of all the work and effort that all teams involved in the project put. We as a unit, work very hard to fulfill all the expectations our clients could have and now we are proud to once again guarantee that the cargo arrived safely and timely, reaching all those expectations.
Tradelossa – Moving the Industry Since 1973
Project Cargo Logistics in Mexico